AVM2-PC test equipment
The AVM2-PC test equipment has been developed to make diesel high pressure pump, injection pump, unit injector and common rail injector based on computer system quicker and easier.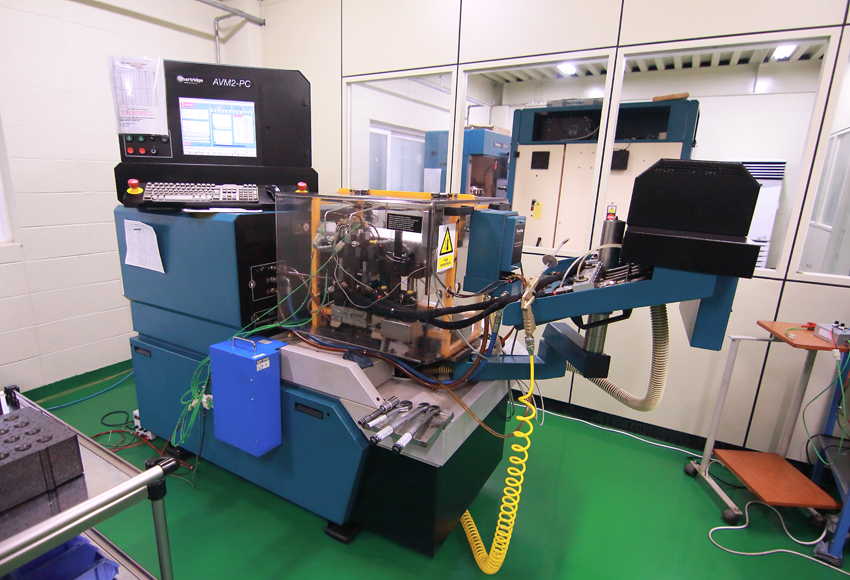 Key Features
* Selectable Hartridge Accessory Kits - Test all existing inline, rotary, common rail pumps, EUI, EUP and common rail injectors
* Equipment officially certified and recommended by Delphi, Denso, Siemens and Steinar personnel.
* Windows-based systems
* Fuel pressure up to 80 bar
* Anti-skid coupling
* Two different DC supplies (0-24V @ 3 amp)
* Cooling function of measuring equipment
* Backlit temperature measurement in pump outlets
* Aux sockets for sensors and external galibrator for measuring injection points
* Analog speed adjustment for governor control
* Digital pressure display
* Automated testing with test plan editor
* Compact design size
* 12 or 8 cylinders can be monitored (digital)
* 20hp (15kW) DC High Torque Motor
* 1.8kgm2 (43 Ibft2) Flywheel
* Display of pump discharge and test stand operating data via 15 "TFT
* Digital dynamic paging (option)
* Digital dynamic timing (option)
* Digital Advance (option)
* Digital boost (option)
* Digital rack (option)



The secret of AVM2-PC is that it is easy to use.
Although it is a part of complex equipment, this will allow the operator to test the equipment more easily and quickly than other test equipment.
The AVM2-PC will be an obvious choice as an "all-make" fuel injection system.
The powerful computer that acts as the heart of the machine is already installed on the initial purchase with a user-friendly Windows-based AVM2-PC software, and the magma is designed to be easy to use.
In addition, to save time, we have maximized the user's convenience from the automatic step test plan to the semi-automatic test plan.
User-friendly and adaptable design
The AVM2-PC's design is considered the most user-friendly. In-line pumps up to 12 cylinders, EUI, EUP and common rail injectors are tested to minimize operator stress and adaptable for quicker handling.
Advanced Video Measurement System
Having succeeded in developing a PC based AVM2-PC, Hartridge will continue to upgrade equipment tailored to the needs of future diesel technicians.
This advanced equipment, AVM2-PC, drives drive motors with improved torque at low RPM and meets ISO4008, EEC & UL / CSA.
Hartridge has over 20 years of experience in video metering and measurement systems, from production development to field service.

With the speed of Hartridge's unsurpassed video metering, AVM 2-PC systems can hold up to 12 cylinder pumps.
Intelligent flow measuring system and AVM 2-PC allow the pump to be connected in the most convenient way.

The pump or injector dispense volume or any other information can be viewed simultaneously on the 15-inch screen.
The test equipment works as the default keyboard you can print out the performance of your pump or injector with an optional printer.
This can be done at any time during the test and the results can be collected before and after.
Many of these prominent features, such as DC motors and standard PCs, make the AVM2-PC the ultimate test tool for diesel fuel pump testing.
Power and inertia
A DC motor that rotates at full torque is mounted on the AVM2-PC to maximize the transmission system to reduce high cost and complexity of service.
The maximum torque of the drive motor is from 30RPM, which drives a 20HP (15kW) motor drive with a flexible coupling for 1.8kgm2 (43 Ib ft2) backlash.
The flywheel and coupling are also sealed for safety. Automated drive systems meet a wide range of continuous speeds are pre-selected and operated in the range of 30-4000 RPM.
Also, the rate of acceleration and acceleration are also set by the user.
Safety and ergonomic system
Safety was a very important part of the AVM2-PC when it was designed.
The flywheel is completely shielded by a protective device, and the electronic components are completely protected by the electronic cabinet.
Emergency stop buttons are also located on both sides of the machine to stop the machine at any time in case of emergency.
The control of the drive start can be controlled by a separate switch, and if the PC malfunctions, it can not be predictably driven.
In addition, for identifiable safety, it is not driven when it is lower than 30RPM. AVM2-PC complies with European Union guidelines and conforms to EMC standards.
The AVM2-PC, designed for user convenience that is closely related to safety, allows the operator to operate more comfortably.
The control console is designed to rotate to either side of the test rig, and the height and angle of the keyboard are set to an angle that minimizes compression.
Floppy and CD-ROM drives can be easily operated from the front of the machine.
The use of the test bench's PC provides the possibility for the user to use the standard software for the incidental AVM2-PC operation.
For example, test results can be stored in a database for tracking purposes. In addition, the PC can be connected to your office network for interaction with other systems.
Pump and injector mounting
Allows testing of injectors as fast as possible with systems using special adapters.
The test injector mount is possible without resetting the pump mounting bracket and the associated support arm is rotated under the front of the table.
The bottom of the machine can accommodate all pumps up to 12 cylinders in length, and the user can work at a comfortable height.
Servicing
system components are located on the left side of the test stand and all electrical and electronic systems are on the right side.
Decomposition can be easily dismantled by removing two bolts on each side, filling the tank with test oil or removing the left hand panel for easy replacement.
Computer operation
AVM2-PC can be self-diagnosed through a computer, 15th keyboard, pressure control valve and digital pressure gauge. All of these functions are customized to the user's convenience.